ITALIANS: TAYLOR STREET
Dominant among the immigrant groups streaming on near west side streets at the turn of the twentieth century were Italians, Greeks, and Jews. Enclaves of Italians–Neapolitans, Sicilians, and Calibreans–settled in the Taylor Street area, Jane Addams estimated about ten thousand in the several blocks between Halsted St. and the River alone
Before the Italians arrived, Taylor street had been named for the pre-Civil War general, Zachary Taylor, elected to the presidency in 1848 and who died in office in 1850 from gastroenteritis, supposedly from eating too much ice cream and cherries on a hot day. In volatile political times with slavery at the top of the agenda, Taylor's political "murder" became an item of popular speculation. Food and crime–a fitting legacy for the "foreign colony" later settling on Taylor Street.
The Taylor Street neighborhood was known as "Little Italy." Though other Italian settlements were located in the Chicago area, none emerged with the size, prominence, and persistence of Taylor Street. The Jews, for instance, after the initial years of settlement moved further west. The Italians remained and prospered in food businesses and cuisine. Taylor Street became a primary location of groceries, meat markets, bakeries, restaurants, and vendors in food services, a number of them persisting for generations.
The Federal construction of the I94 Interstate highway in the 1950s and the fruition of Richard J. Daley's urban renewal plans in the early 1960s with the campus of the University of Illinois at Chicago as a centerpiece ultimately redrew the street and residential map of the area.
Southern Italians as an "alien" group in the U.S., commonly traveled back and forth to the old country. They appeared to resist the nationalist push of the "Americanization" agenda, and unsurprisingly received a hostile welcome. In low-brow caricature and denigrating jokes about their stupidity, Italians were mocked for their "swarthy" appearance, "Catholic" superstitions, "padrone" labor evils, exploitative streets trades, patriarchy and gender discriminatory family relations, lack of a work ethic, and profound ignorance of the role of technologies in modern urban life. Local crime and crime families ("The Black Hand") identified with Taylor Street attracted both academic and broader public scrutiny.
Case in point, the perspective on neighborhood Italians from Hull-House residents who presumed a mantle as the anchor of civilization in the West Side district. Jane Addams characterized the South Italians as a "primitive people" and simple "peasants," naive patronage supporters of the Nineteenth Ward Boss. For children coming from a former peasant's life picking olives and oranges, it was but a step to criminality by thieving coal, vegetables, and fire wood from local vendors.
Dr. Alice Hamilton at the Hull-House clinic concluded that Italian mothers, abysmally ignorant of progressive American dietary practices, were incompetent. Florence Kelley further condemned them as lazy and "unfit for motherhood." Kelley concluded that listless Italians with little capacity for energy or persistence were a "burden," neither suited "for life in the northern cities" nor "to participate in a self-governing community."   bjb
INTRODUCTION
PHOTO GALLERY
BETWEEN OLD WORLDS AND THE NEW
Imported Americans: Personal Experiences by Broughten Brandenburg (1904)
VICTORIAN STEREOTYPES, 19th CENTURY CARICATURES AND CARTOONS (1878-1909)
Popular caricature and cartoon were not kind to southern Italians, emphasizing their peasant-like bungling ways, beast of burden exploitation, and "black hand" criminality.   bjb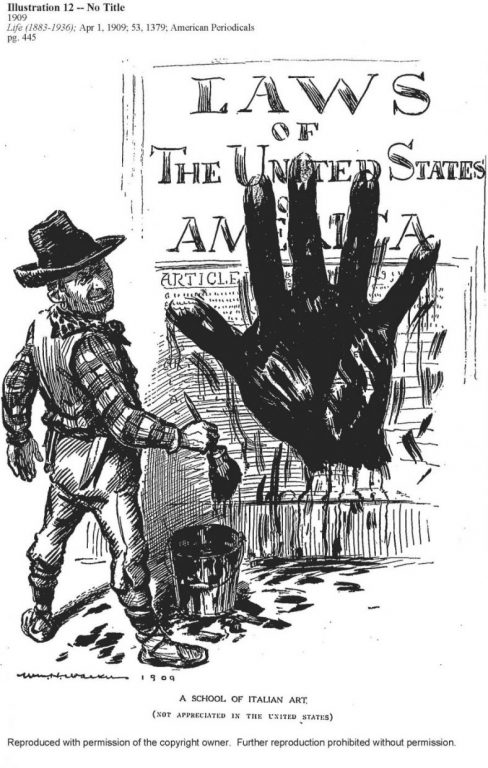 COSMOS ITALIANO
FOODWAYS AND ITALIAN LIFE IN CHICAGO 
Part 4:  Food and Drink on Chicago's West Side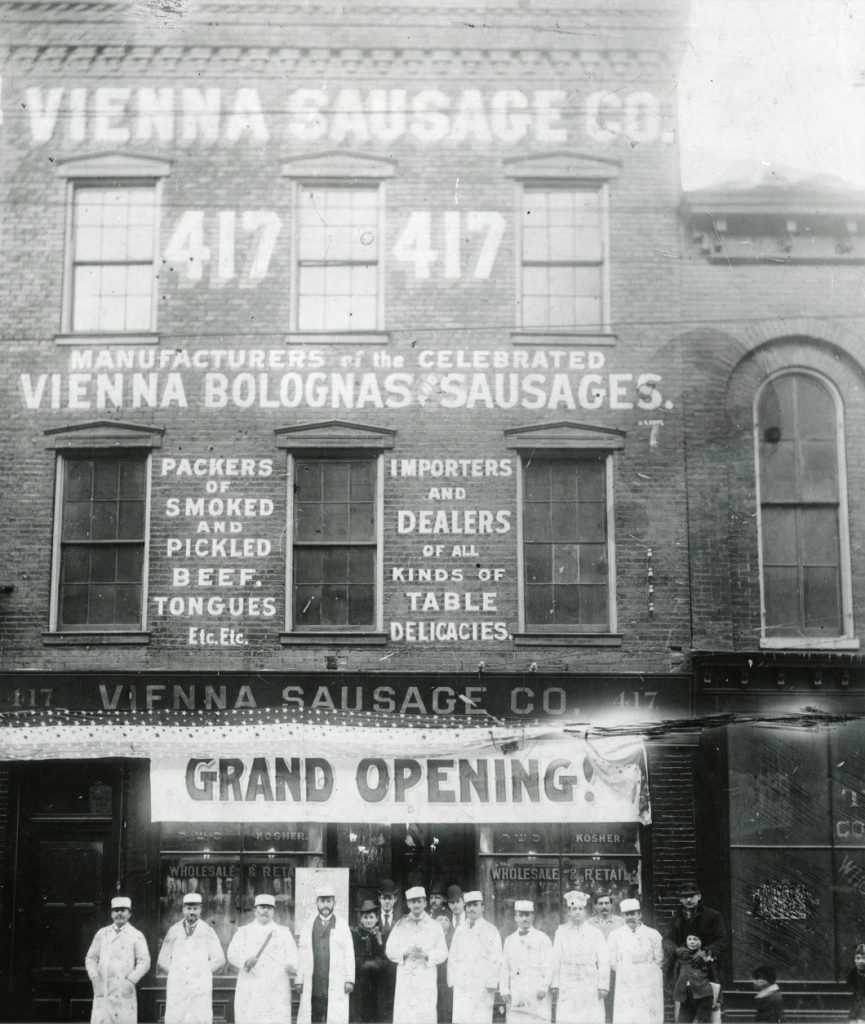 GROWING UP AN ITALIAN BOY ON THE WEST SIDE: ANTHONY SORRENTINO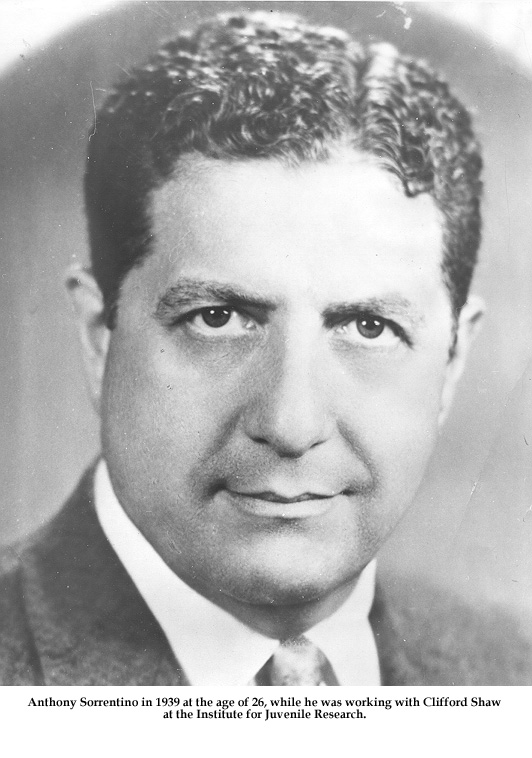 AN ITALIAN WOMAN AND MOTHER IN CHICAGO: ROSA CAVALLERI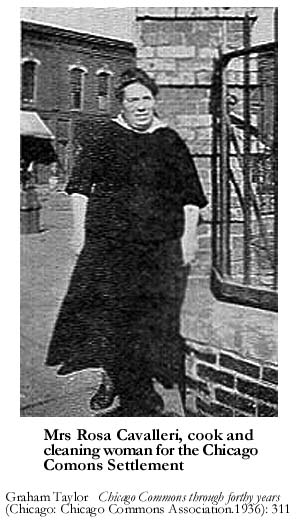 ITALIAN GIRLS, FAMILY, AND HOME IN CHICAGO
CHILD BONDAGE, THE PADRONE EVIL IN CHICAGO (1897-1907)

The Padrone, an Italian word for boss or manager, was a patriarchal figure in a system of temporary contract labor. A middleman the Padrone was a labor broker matching unskilled mostly urban immigrants with temporary jobs in areas of a labor shortage, including picking field crops, manual labor in mining and construction, and digging canals.
The Padrone's clients included women and young children, primarily Italians and Greeks. Ideally he  served two functions.  As a facilitator assisting uninformed immigrants ignorant of the capital-intensive American labor system.  And as a benefactor and counselor to his dependent patrons, providing a range of services including the costs of transportation and lodging, sending money home, writing letters, and producing documents.
More realistically, the Padrone exploited and enslaved his mature but especially his young wards, charging excessive fees for his services, and requiring submissive obedience. While the record was mixed, it trended towards the abusive.   bjb
ITALIANS IN THE WEST-SIDE NEIGHBORHOOD, PERSPECTIVES FROM HULL-HOUSE (1895-1943)

ITALIANS IN CHICAGO: PUBLIC INTELLECTUALS (1897-1933)
MAKING A SECOND GENERATION OF ITALIAN-AMERICANS 
ETHNIC LIVES: WORK, COMMUNITY, AND LEISURE