GREEKS: HALSTED STREET
The area of settlement of Greeks on Halsted and West Side streets was known as the Delta. Within sight of Hull-House, Greek Town housed the first Greek School and Greek Orthodox Church. A contemporary sociologist observed:
"On every hand one hears the Greek language, and the boys in the streets and on the vacant lots play, with equal zest, Greek games and baseball. It is a self-sufficient colony, and provision is made to supply all the wants of the Greek immigrant in as near as possible the Greek way. Restaurants, coffee houses, barber shops, grocery stores, and saloons are patterned after the Greek type, and Greek doctors, lawyers, editors, and every variety of agent are to be found in abundance."
At first male Greek immigrants shined shoes or worked the railroad.  But settling in the inner city they turned to the restaurant business and and competed with Italians peddling fruit. The rivalry between the Greeks and Italians for dominance in local markets turned intense. Greeks sought their advantage by taking goods to people on the streets while Italians located their businesses in established stores-fronts. In 1895 the Chicago Tribune observed, "There is a bitter feud between these two races, as deeply seated as the enmity that engendered the Graeco-Roman wars."
Greek immigration to Chicago fleeing poverty and Balkan wars picked up at the turn of the twentieth century. Old-world rivalries and feuds persisted on new world ground as Greeks identified with their history. In 1909, Jane Addams sadly recalled, "I remember a Greek boy of fifteen who was arrested for hanging a young Turk, stirred by by some vague notion of carrying on a traditional warfare, and of adding another page to the annals of Greek history."
Largely a mobile male population, often moving back and forth from the native land, Greek men in the Delta favored the institution of the coffee house and not the traditional saloon. Day and night they sat around coffee tables, arguing interminably about politics, consuming strong Turkish coffee and sucking in the thick smoke of Turkish pipes.
To compete the classical educated college women of Hull-House opened up a Coffee House liberated from intoxicating drinks and bad habits . They had minimal success taming the local Greek masculine culture, oblivious to the ancient Greek classical aesthetic of proportion and beauty. See Wallace Kirkland's unique graphic photographs of the Greek community celebrating Easter by slaughtering and roasting sheep, feasting, drinking, and celebrating along the curbs and storefronts on Halsted Street with Hull-House in clear view.    bjb
INTRODUCTION
PHOTO GALLERY
GREEKS IN CHICAGO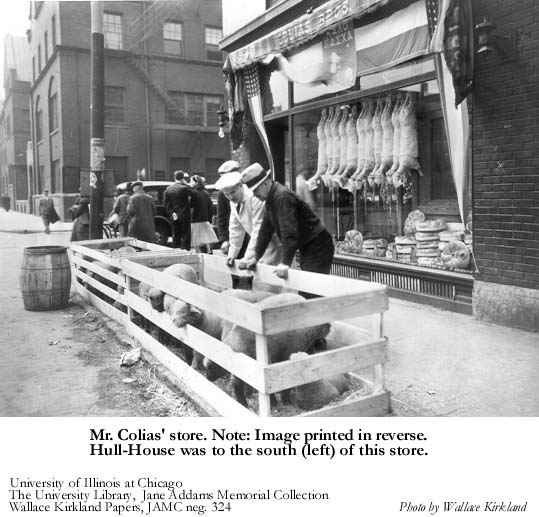 GREEK PADRONE SYSTEM
The Padrone, an Italian word for boss or manager, was a patriarchal figure in a system of temporary contract labor. A middleman the Padrone was a labor broker matching unskilled mostly urban immigrants with temporary jobs in areas of a labor shortage, including picking field crops, manual labor in mining and construction, and digging canals.
The Padrone's clients included women and young children, primarily Italians and Greeks. Ideally he  served two functions  As a facilitator assisting uninformed immigrants ignorant of the capital-intensive American labor system.  And as a benefactor and counselor to his dependent patrons, providing a range of services including the costs of transportation and lodging, sending money home, writing letters, and producing documents.
More realistically, the Padrone exploited and enslaved his mature but especially his young wards, charging excessive fees for his services, and requiring submissive obedience. While the record was mixed, it trended towards the abusive.   bjb
GREEKS AND GREECE  IN CHICAGO (1895-1914)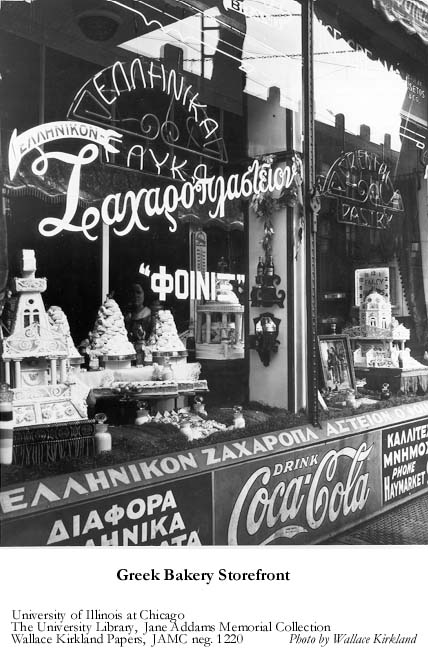 LIFE STORY OF A PUSHCART PEDDLER